Today is
8/20/2019 MEIPALA PLACE CUL-DE-SAC REMEMBERS AUNTY MABEL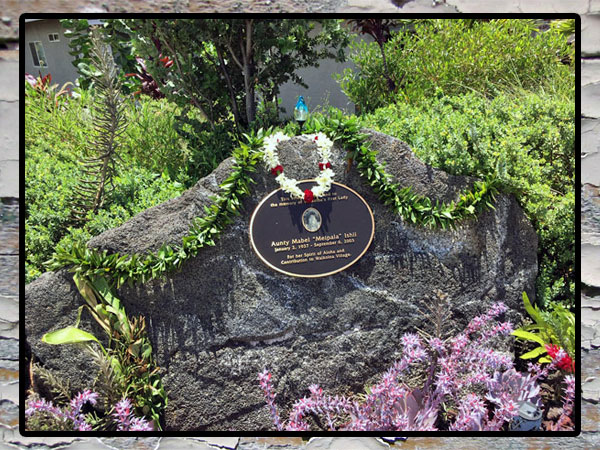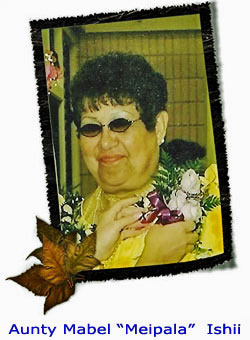 Throughout the weekend of August 17 friends, family, and others dropped by the First Lady of Wakoloa Memorial in Waikoloa Village to place lei to mark the first anniversary of the Memorial. Installation of the Memorial occurred last year on August 19 and drew members from the community, State and County officials, and island-wide residents and visitors.
4/15/2019 COMMENTS ABOUT MEMORIAL
A resident recently wrote: "I was down at the bottom of Sunset Ridge and found the rock on the corner in memory of Auntie Mabel!  ...I pulled over to read the plaque.  Moving and caring!" 
---
OTHER RELATED ARTICLES:
10/4/2018 - THE WAIKOLOA BREEZE ARTICLE ON FIRST LADY OF WAIKOLOA
The October issue of the Waikoloa Breeze newsletter has an article on the dedication of Aunty Mabel.


8/19/2018 - THE FIRST LADY OF WAIKOLOA HONORED AT A NEW MEMORIAL AT THE ENTRANCE TO MEIPALA PLACE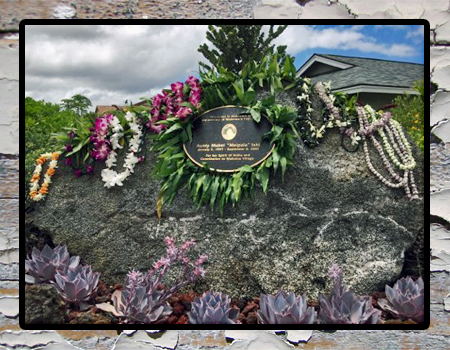 8/19/2018 - Family, friends, and residents of Waikoloa Village came together to honor Aunty Mabel Ishii on August 19. She was a legendary figure in the early days of the Waikoloa Village Association's development and evolution.

Special guest speaker, Valerie T. Poindexter, Council Member Chairwoman and Presiding Officer of the 2016-2018 Hawai'i County Council, shared poignant comments and touching recollections of Aunty Mabel's character and legacy, as some held back tears. Poindexter went on to say how--up to Aunty's death--she instilled the values of aloha and service to the community to all of her children and grand children.

Hawai'i County Council Member Tim Richards issued a Hawai`i County Letter of Recognition that stated "Aunty Mabel was the center of the community... She was the epitome of Aloha!"
On behalf of the Hawai`i's Twenty-Ninth Legislature, Hawaii State Senator Lorraine Inouye pointed to Aunty Mabel's "strong commitment to community" and "whose work has improved our quality of life." The Senator referred to Aunty's spirit of aloha as "legendary."
Kate "Kealani" Winter gave the pule.

"O ke aloha ke kuleana o ahi malihini. (Aloha is the host in strange lands.)

Sometimes places choose people, but Aunty Mabel, or Meipala, chose this place because she wanted to see the other side of our island.

Once here, she embodied what was good and best in the place and its people.

With her heart, hands and hugs, Aunty Mabel created a nest of belonging for every malihini she encountered.

The closest any of us can come to forever is neither bone nor stone: it is Aloha that is everlasting.

Aunty Mabel lived this truth.

Her spirit animates the wide-embracing clouds of this wahi pana, her spirit uses the breath of wind and spreads the mana among all who dwell here, makani carries her message of acceptance, inclusion and welcome.

Now let us offer thanksgiving...

For Likeke and Roger, brothers who share Meipala's loving ways, to her children and all her extended ohana, and Roger Hansen who recognized her spirit.

We give our aloha.

For the gifts of Kim and Scott who offered this place as wahi pana,

We give our aloha.

We commit ourselves to mindful use of creation and community,

We give our aloha.

We bless this memorial place, this wahi pana.

We give our aloha.

May all who pass it know her mana and be inspired to recognize kindredspirits in those we newly meet,

We offer our aloha.

O ke aloha ke kuleana o ahi malihini. (Aloha is the host in strange lands.)

Special thanks to all who attended, helped organize, and participated in honoring the First Lady of Waikoloa, Aunty Mabel Ishii. More information and stories about Aunty Mabel may be found here.
---
YOU CONTACT US for more information, by using the on-line form below as well as contacting us by e-mail. Or by calling 808.327.9792 Likeke "Ric" Bumanglag.
---