SUNDAY, June 4, 2006 &nbsp
St. John School students run to raise $15,000 to help student with rare disease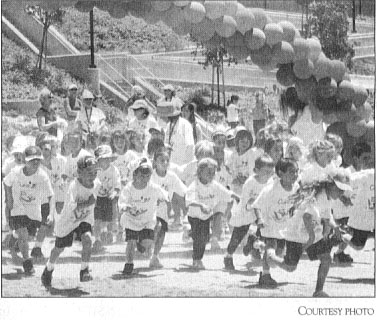 St. John School In Encinitas recently held a Jog-a-thon in honor of Parker Hume. who is battling a rare disease called Juvenile Dermatomyositis. The students raised $15,000 for research into a cure for JM, an autoimmune disease that can attack virtually any system of the body, but primarily attacks the muscles and the skin.
The students found creative ways to raise money by holding bake sales, garage sales and lemonade stands.
Some students canvased their neighborhoods for donations to help their friend, while others emptied out their own piggie banks.
The $15,000 will be given to the Cure JM Foundation, a nonprofit organization founded by Parker's parents, Tom and Shari Hume.
Cure JM's mission is to raise awareness, fund research and provide support to the children affected by this disease. For more information, visit the Cure JM website at www.curejm.com.