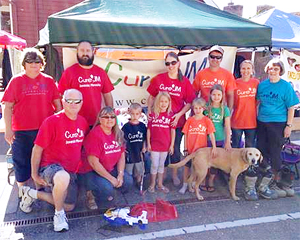 Upcoming Regional Events and Fundraisers
All events in local time. Visit www.curejm.org/walkstrong for a full list of upcoming walks near you!
November
City Lights PDX - To benefit Cure JM and the Oregon/SW Washington Ronald McDonald House charities
Friday, November 22nd
Melody Event Center
615 SE Alder Street
Portland, OR 97214
6:30 - Start the night with Casino style gaming
7:45 - Plated dinner and Presentation
8:15 - Live Auction
9:00 - Silent Disco Dancing
GET MORE INFORMATION AND BUY YOUR TICKETS TODAY
December
Giving Tuesday!
Tuesday, December 3rd
$150,000 in prizes is up for grabs! Email or text Shannon at 512.709.1905
GIVING TUESDAY FUNDRAISING PAGE
Holiday Yacht Party benefiting Cure JM Foundation and Children's Hospital Los Angeles
Sunday, December 15th, 2019: 3:00pm - 8:00pm
Marina del Rey, CA
January, 2020
Holiday Wrestling Tournament benefiting Cure JM
Sunday, January 12th, 2020
Wall Township, NJ
Contact for more information.
February, 2020
2nd Annual Walk Strong to Cure JM® Family Houston Fun Event and Fundraising Walk
Saturday, February 8th, 2020
Rob Fleming Park
6055 Creekside Forest Drive
The Woodlands, TX 77389
Registration opens 9:00am. Walk Festivities 10:00am - 1:00pm.
Join us for a one-mile walk, food, entertainment, games and prizes at a family-fun event for all ages.
April, 2020
3rd Annual Walk Strong to Cure JM® Pittsburgh
Sunday, April 26th , 2020
Schenley Plaza
4100 Forbes Avenue
Pittsburgh, PA 15260
Registration begins at 9am and walk festivities begin at 10am.
May, 2020
2020 Walk Strong to Cure JM® Chicago
Sunday, May 3rd, 2020
Hyatt Conference Center
Oak Brook, IL
Our event includes a one mile walk, food and lots of entertainment that will be fun for all ages. Don't forget to ask your family, friends and community connections to sign up and join you too. This event is free and open to the public.
Contact for more information
2nd Annual Walk Strong to Cure JM® Philadelphia
Saturday, May 9th , 2020
Independence Park
Philadelphia, PA
This will be an afternoon event. More details coming soon!