The Breese Journal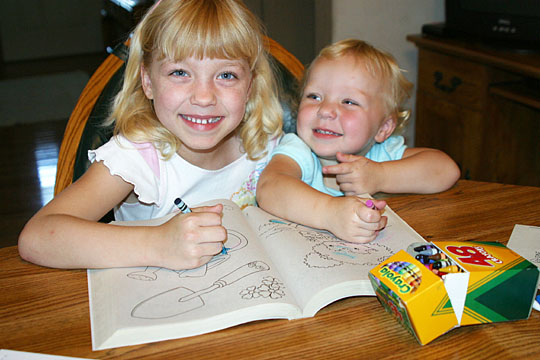 Gracie Jasper and her little sister Claire pose for a photo while coloring at the Aviston home of their grandparents, Pete and Joni Wilken. A fun-loving first grader, Gracie was diagnosed last fall with a rare autoimmune disease that causes a variety of debilitating symptoms.
Racing to find a cure for JM & Gracie
Aviston family hopes to promote public awareness and raise funding to find a cure for juvenile myositis.
By Vicky Albers
Editor
Just three days into the new school year, six-year-old Gracie Jasper has already decided that math is her favorite subject. The bright-eyed blonde is excited about being able to start first grade
at Aviston Elementary. Just nine months ago her body was so fatigued that she couldn't ride the school bus because she couldn't climb the steps.
In early November 2005, Gracie was diagnosed with juvenile dermatomyositis (JDM), a rare disease that affects the autoimmune system of children and teens causing muscle weakness and pain, fatigue, and many other debilitating symptoms.
Gracie developed a rash on her cheeks last October. When the rash spread around her nose and onto her eyelids, her parents, Casey and Greg Jasper, took her to see the family doctor.
After a test for lupus came back negative, Dr. Doug Kruse referred Gracie to a dermatologist at Children's Hospital in St. Louis. Casey said the dermatologist was 99 percent certain that Gracie's rash was caused by JDM.
"We took Gracie there thinking that she would get a cream for her rash, and it was heartbreaking to hear the diagnosis," her mother said.
On Nov. 9, a rheumatologist at Children's confirmed the diagnosis. By then, Gracie had started experiencing some muscle weakness and the rash had spread to her elbows.
By late November, Gracie was rapidly losing strength. She couldn't brush her own hair or teeth. Since she had trouble climbing the steps on the bus, her grandpa, Pete Wilken, drove her to school.
"She could barely walk," Casey recalled. "We had to carry her wherever she went."
She was admitted to Children's Hospital on Dec. 5 and received heavy doses of steroids for three days.
"That really seemed to help," Casey said. "By late January she had improved. Her strength was pretty good and she could go up and down the steps again."
JDM is a form of juvenile myositis (JM) — a rare autoimmune disease that affects only about 5,000 children in the United States.
In an autoimmune disease, the body's immune system, which normally fights infections and diseases, fights the body's own tissues and cells. The immune system fights infections or injuries through inflammation, or swelling.
The first sign of JDM is usually a skin rash. The rash may be red and patchy, like dry skin; a red or purplish color on the eyelids or cheeks that may look more like allergies; or both. JDM patients can have weak muscles at the same time they see the skin rash, or the weak muscles may come after the rash over days, weeks or months.
The skin rash and weak muscles are caused by inflammation or swelling in the blood vessels under the skin and in the muscles, also called vasculitis.
Other signs may include falling, weaker voice (dysphonia), or problems swallowing (dysphagia). About half of the children with JDM have pain in their muscles. Some children may have calcium deposits on soft tissue, known as calcinosis.
While some children experience a remission, others will battle JM for life.
Though complications of the disease can prove fatal, medication can help alleviate the symptoms of JM.
Following her initial three-day dose of steroids, Gracie was on the steroid prednisone until July 30. Since her body's own immune system is attacking her normal, healthy tissues, the steroids helped to slow down her immune system.
She now receives a weekly injection of methotrexate to compensate for the reduction in oral steroids. In addition, Gracie is admitted to the hospital once a month for an intravenous immunoglobulin (IVIG) infusion. IVIG is a blood product that reduces inflammation and has been shown to be very effective against JDM.
Gracie was able to play tee-ball this summer and looks forward to one day playing soccer. She still has a slight redness to her skin, and to avoid any side effects from the sun, she always wears a hat and sunscreen while she's outside.
While her muscle strength is improving, Gracie still experiences occasional fatigue. In spite of her illness, she's living life like any other fun-loving first grader.
Unfortunately, since so little is known about JM and the rare disease remains an underserved research area, a prognosis for Gracie is uncertain.
"Everybody's different," Casey said.
There is no known cure for JDM and just four years ago there was very little information available about the disease. That's when a group of active parents — spearheaded by Shari Hume, a mother of three from California who's son was diagnosed with JM at the age of 4 — founded the nonprofit Cure JM Foundation.
Today, Cure JM is able to connect parents and patients, along with providing networking opportunities and emotional support. The foundation also works to raise awareness among the public and medical community and to raise funding to find a cure.
When Gracie was first diagnosed, her family turned to the Internet and the Cure JM website to learn more about the disease.
"We were just trying to understand what was all going on," Casey said. "Of course, I went online and read the worst cases."
Eager to learn more and desperate to do whatever she could to help, Gracie's grandmother, Joni Wilken, became involved as a volunteer with the Cure JM Foundation. Today, she's a member of the foundation's advisory board.
One of her recent jobs as a Cure JM volunteer was taking literature to all of the doctors in Clinton County and in the Belleville area to help raise awareness about the disease.
She stressed that increasing awareness among healthcare providers and the general public will help with recognizing the early symptoms of the disease.
"Gracie was one of the lucky ones because she was diagnosed fast and had aggressive treatment," Joni said. "Other children can be misdiagnosed and wind up in wheelchairs or worse."
Joni said the Cure JM Foundation has made headway in bringing attention to the disease and provides support to family members in need.
"Some of these drugs are the same ones used to fight cancer," Joni said. "It can be really scary putting all that in such a little body."
Families with affected children are also brought closer together by Cure JM. This is true for Gracie's own family and a few friends who are making plans to participate in the LaSalle Bank Chicago Marathon to be run on Sunday, Oct. 22. Money raised will help support funding for research to find a cure for JM.
"There are so many questions and it's so emotional," Joni said. "It helps knowing there are others out there with the same concerns."
To date, there are 75 runners/walkers on the Cure JM team and 30 families from all over the United States have been able to raise $20,000. (See accompanying article for more information about donating)
You can help raise funding for a cure
Joni and Pete Wilken are working hard as volunteers for the LaSalle Bank Chicago Marathon to be run on Sunday, October 22 that will support funding for research to find a cure for Juvenile Myositis (JM).
The rare disease affects the autoimmune system of children and teens. It causes muscle weakness and pain, fatigue, and many other debilitating symptoms. There is no known cure, but there are medications to help alleviate the symptoms and, in some cases, bring a temporary remission. JM is a life-threatening condition.
The Wilken's granddaughter, Gracie Jasper, was diagnosed last November with juvenile dermatomyositis. Gracie is now six years old and just started first grade at Aviston Elementary. She is the daughter of Casey and Greg Jasper.
Gracie has regained her strength, but she continues to take treatments for JM at Children's Hospital in St. Louis and hopes to one day be in remission.
While Gracie and her grandparents will be working as volunteers at the race, Casey and Greg will be running in the marathon. Also participating locally are Bill Smothers and Mac Caleb McGrath as
runners and Vicki Smothers and Dan and Megan Ratermann, who will attend as race supporters.
For more particulars on the marathon or to make a donation to the cause, you can contact the Wilkens at petewilken@sbcglobal.net, the Jaspers at caseyjasp@yahoo.com or go to www.curejm.com
Gracie's dad and grandfather are also raising funds through a "Golf Raffle." Tickets are $5 each and can be purchased at Citadel Saloon in Aviston or by calling 228-7303. The drawing will be held at
6 p.m. on Oct. 1 with prizes as follows: first - TaylorMade R7 Driver; second - TaylorMade Putter; third - TaylorMade gift basket; and 15 other golf-related prizes including passes to local golf courses.