Cure JM Foundation 2017 National Conference Awards
Lifetime Achievement in Research: Dr. Lisa Rider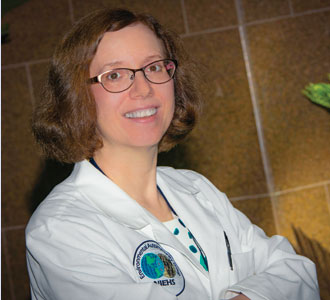 Advancing the field of juvenile myositis takes a brilliant scientific mind, a passion for juvenile myositis research, and a devotion to training young researchers. This next award celebrates a scientific researcher who has dedicated 15 or more years to JM research, and made significant advances in the field of juvenile myositis research.
Dr. Lisa Rider has devoted her career to JM research, helping to advance understanding of juvenile myositis pathogenesis, phenotypes, and treatments. She has been a leader in fostering international collaborations that have helped further advance juvenile myositis research.
Dr. Rider is the Deputy Chief of the Environmental Autoimmunity Group at the National Institute of Environmental Health Sciences, National Institutes of Health. She is also the Director of IMACS, the International Myositis Assessment and Clinical Studies Group. A member of Cure JM's Medical Advisory Board since 2011 she was appointed as Chair in 2016.
Dr. Rider's many accomplishments have directly helped improve the lives of JM patients and offer hope to so many families. Some of her many accomplishments include:
Her development of new response criteria used to determine clinical improvement in treatment trials for juvenile and adult myositis
Her work to define subgroups of patients based on myositis autoantibodies, and their associated clinical features and outcomes
And co-leading the International Myositis Assessment and Clinical Studies Group (IMACS) for the past 20 years, which has been a leader in international development of validated assessments.
Dr. Rider has also has a passion for teaching the next generation of medical scientists. She is a clinical professor of medicine at The George Washington University, helping to train rheumatology fellows in JM clinical care and research. She has authored & co-authored numerous medical textbook chapters, teaches as an ACR visiting professor, and has spoken at numerous Grand Rounds. She is also co-editor of the Myositis and You book, an invaluable reference tool used by thousands of families and medical professionals.
A regular presenter at Rheumatology conferences about her research, Dr. Rider has also published over 100 peer-reviewed journal research articles in medical journals such as New England Journal of Medicine, Journal of the American Medical Association, Arthritis & Rheumatism, Arthritis Care & Research, and many more. Dr. Rider has authored more than 40 chapters, articles or editorials on idiopathic inflammatory myopathies and has co-organized 20 international or national conferences, including the recent Global Conference on Myositis. Among her many accolades, she was recently awarded the 2016 PhRMA Research & Hope Award for Government Research.
And as so many families in this room can tell you, Dr. Rider's devotion to her patients, families, and JM research make her a true inspiration.
We are pleased to award the Lifetime Achievement Award in Juvenile Myositis Research to Dr. Lisa Rider.
Below is a recording of Dr. Rider receiving her award: