Humu Mo`olelo Journal of the Hula Arts Books
Published by Humu Mo`olelo, LLC
If you ever wanted to experience the history, spirit, evolution, and knowledge of Hula, these books provide a phenomenal insight and exposure of this sacred, ancient cultural art form. You will find no other books like these; they are the remaining limited edition copies that are being offered through our website. If you love the hula, these books are a "must have"! Only a limited number were printed.

#50YRS - The Merrie Monarch Festival FIFTY YEARS OF HULA Culture & Tradition, Paperback $51.95
Humu Mo`olelo COMMEMORATIVE Special Edition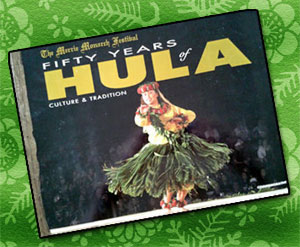 CONTENTS:
The Merrie Monarch Festival - The Early Years - Three Interviews by Doris Purdy

Saving the Merrie Monarch - Dottie Thompson Revives the Festival

Mo`olelo Mo`oku`auhau - Aloha Dalire from the Beginning of the Competition

Images of the Hula - Boone Morrison

Remembering My First Merrie Monarch - Jacqueline "Skylark" Rossetti

The Come Back Experience - Ellen Pelissero

Johnny Lum Ho Shares His Mana`o on the Merrie Monarch - An Interview with Kumu Hula Johnny Lum Ho

Timeline & Milestrones of the Merrie Monarch Festival - A Chronological Look at the History of Hula`s Crowning Jewel

Captured Moments - Merrie Monarch photographs

Ka Lei Lanakila - Winners from the Past and the 2013 Contestants & Judges

Treasured Art of Hula - Memorabilia of Past Merrie Monarchs

The Merrie Monarch Festival, Tourism, Culture, Hula Town, Hotels, Aloha... - George Applegate, Hawai`i's Tourism Leader comments

The Grogge Shoppe - Brandon Nakano

A Hawaiian Cultural Event - The Merrie Monarch Invitational Hawaiian Arts Fair

Mele at the Merrie Monarch - An interview with Kuana Torres Kahele

County of Hawi`i Perpetuating Hula & Hawaiian Culture - An Interview with Mayor Billy Kenoi

Ka Ho`oilina Mau - Luana Kawelu and Future of the Merrie Monarch


#HUMU-1 VOLUME ONE, NUMBER ONE - Journal of the Hula Arts, 2006 - $18.95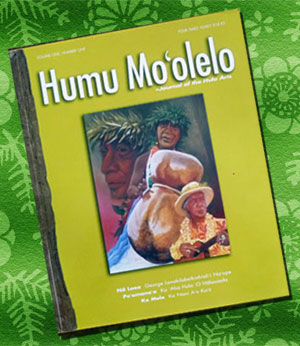 CONTENTS
Ke Kaupola`o i Na Ali`i - Tribute to the Chiefs

Lanakilakeikiahiali`i - Mele Inoa - Name Chant

It's My Life - An Authbiography by George Na`ope

Ka Nani A`o Ka`u - The Beauty of Ka`u

The Best of Times - Ray Fonseca & Etua Lopes

Early Years of the Merrie Monarch - An Interview with George Na`ope

Iwalani Kalima - My Life of Hula

Ka `Aha Hula `O Halauaola - World Conference on Hula 2005

Akalima - Cover Artist - Joseph Nohea Kalima






#HUMU-2 VOLUME ONE, NUMBER TWO - Journal of the Hula Arts - 2006 - $18.95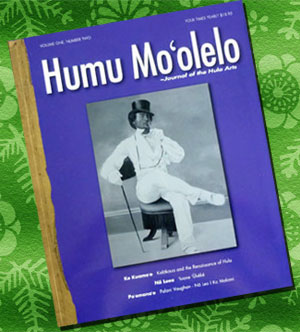 CONTENTS:
Kalakaua and the Renaissance of Hula - Inspiration & Intellectual Motivation for Hawai`i's Cultural Resurgence

Preserving the Hula - Hula Preservation Society

Voices on the Wind - Paul Vaughan

Lei of Aloha - Etua Lopes

`Ioani `Ukeke - Hawaiian Dandy, Hawaiian Tragedy

Ka `Ukeke - Hawaiian Love Instrument



#HUMU-3 - VOLUME ONE, NUMBER THREE - Journal of the Hula Arts, 2008 - $18.95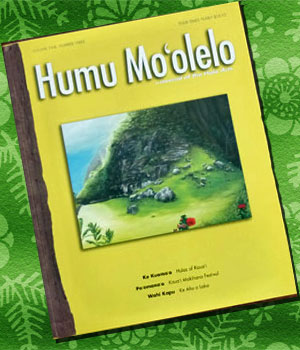 CONTENTS:
Hawaiian Perspective on the Environment - Poka Laenui

Hulas on Kaua`i - Mary Kawena Puku`i

Na Lo`i Pa`akai Kahiko - The Ancient Salt Beds of `Ukula at Hanapepe

Nou e Kaipuwai - A Legacy of Kaua`i Hula Traditions

Maile Lau Li`i wili`la me ka Mokihana - The Maile and Mokihana Lei

Kaua`i `O Kaua`i - Traveling to Kaua`i's Special Places to Learn

Limahuli Gardens - National Tropical Botanical Gardens

Ola `o Limahuli ma ke ahu a Laka - Kumu Hula Kehaulani Kekua

A Time Past, breathed into life, is Hula - Kumu Roselle Keliihonipau Bailey

A he nani Ha`ena `ea I na pali `o ahi - Beautiful is Ha`ena with the Cliffs Where the Firebrands Were Hurled

The Heiau Complex at Ke`e - Ka `Imi Na`auao o Hawai`i Nei

Kuahu Hula - Temple of the Dance



NOVELS BY HAWAIIAN AUTHORS

BOY WITH GOLDFISH: A novel for young adults by Jerre Tanner ISBN 9781720568216 - $6.99

Boy With Goldfish: a heroic fantasy for young adults based on ancient Hawaiian mythology. Imagine an all-ocean world where there are no continents, only occasional widely-special islands. Imagine demigods creating these places from the murky depths, destined to then aimlessly float in the oceanic void where experimental scenarios unfold for their amusement. And think of a small child, naked and asleep, abandoned in a misty upland tropical forest, dreaming of a hero's quest but caught in the deities' caprice. Such is the fate of our hero, the Boy of the title.
Tanner's love for the Hawaiian Islands, his home for over 50 years, carries well into this literary work.
#JT-BWG - Boy With Goldfish a novel by Jerre Tanner - Paperack - ISBN 9781720568216



Kate H. Winter Books


The Woman In The Mountain
Through the lives and the works of seven Adirondack Mountain women writers, Winter illuminates the links between the landscape and the female imagination. This is a fresh contribution to the exploration of gender, genre, and landscape. At the same time, through the biographical detail and reproduction of hard-to-find works, this book offers an engaging literary journey for readers of nature literature and wilderness enthusiasts.
Marietta Holley: Life With "Josiah Allen's Wife"
Winner of the John Ben Snow Prize, this is the biography of the writer known as "The Female Mark Twain" because of her use of homespun dialect humor and her association with Twain's publishers.
Lost Twain, A Novel Of Hawai`i, (Fiction/Historical)
Her latest book, Lost Twain, A Novel Of Hawai`i, takes place on the Island of Maui about a journalist (Mark Twain) who suddenly ceased sending his dispatches back to California only to resume six weeks later without explanation. The novel explores the lure of 'going native' and our 'civilized' resistance to it.
All books by Kate Winter are processed directly from the author (not Captainpicard.com)




DISCLAIMER: We try to be as accurate as possible regarding the descriptions and information about these products. Please be aware that although pictures can show a lot, digital imaging varies on different monitors.