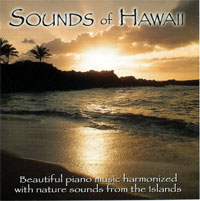 Sounds of Hawai`i, is the first in a series of albums featuring original compositions and traditional Hawaiian melodies set to the soothing sounds of waterfalls, birds, ocean waves, and other natural ambiances found in the Hawaiian Islands.
Close your eyes and let the weight of the world slip away. Let these inspiring melodies and soundscapes unique to each magnificent location take you to a place where beauty and serenity welcome you.
All music written by Daniel Ho (ASCAP) except Hawai`i Aloha and Aloha Oe.